Show Information

Date: September 15th through October 14th
Opening Reception: Saturday September 15th,
4 to 7 pm
Place: Summer Wind Gallery
45 Main St. Isleton
Contact: Karen Franscioni
916-777-6906
EVENT SUMMARY FOR CALENDAR:
Show featuring the art of
Five Sacramento Artists:
- Miriam Davis -
- Julie Didion -
- Carolyn Schneider -
- Marcelle Wiggins -
- Margaret Woodcock -
September 15th through October 14th at Summer Wind Gallery, 45 Main St. in Isleton
Open Thursday - Sunday
Noon to 5 pm.
---
Opening Reception:

Saturday, September 15th
4 pm to 7 pm

and will coincide with
"Come to our Senses - Isleton's Main Street Art and Wine Stroll"
For more information call
Karen Franscioni at
916-777-6906

To receive future email invitations to our Art Gallery Showings, please email us at: summerwind@citlink.net

Please join us on Saturday, September 15 th from 4 pm to 7 pm for the opening reception of our latest show at Summer Wind Gallery!
We will be featuring the work of five artists who have been showing their work in Sacramento for over 26 years.
The reception will coincide with "Come to our Senses - Isleton's Main Street Art & Wine Stroll" which is a new Delta event.
Please note that our gallery hours are Thursday thru Sunday Noon to 5pm.
(and we are always open by appointment)


Miriam Davis' work, whether it involves women in surreal situations or Eastern-influenced landscapes, has a dreamlike quality combined with an exacting eye for detail.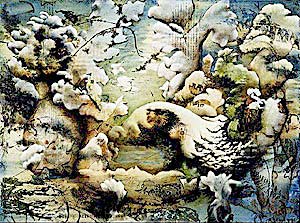 "Air and Water"


Ross and I are very honored to be exhibiting the work of these established Sacramento artists.
We hope that you will join us for what is sure to be an exciting and enjoyable afternoon.
Isleton offers such a unique and interesting look at life. Originally a bustling town full of immigrant workers of various ethnic backgrounds, it is now an emerging artists' community.

Main Street will be the place to be with everyone enjoying Wine Tasting,
Good Music, Yummy Foods,
and ART that is sure to inspire.
In short, an occasion that will help you...

"Come to your Senses!"


Julie Didion's expressionistic shoe and purse sculptures rose out of her work as buyer for a shoe company, and her paintings reflect her eye for the beauty of children and landscape.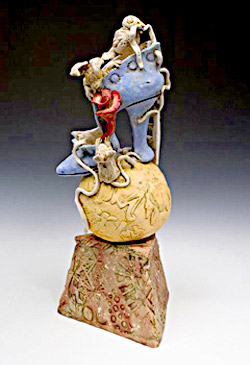 "Must Finish by Morning"



Carolyn Schneider, now an Isleton resident, is a painter whose current work involves studies of British artist Francis Bacon.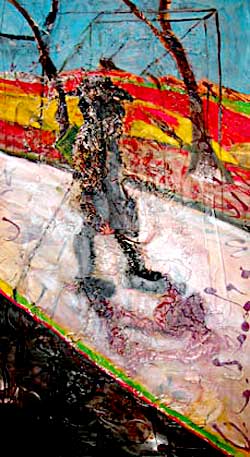 "Study for a Portrait of
Francis Bacon"



Marcelle Wiggins' work combines digital painting methods with prints and oils, layering tree images, abstract forms and color.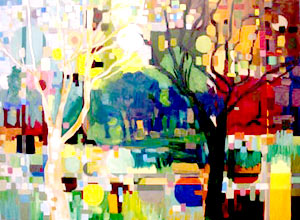 "Euro-Azteca"



Margaret Woodcock uses collage and printmaking elements in her paintings of surreal memory landscapes.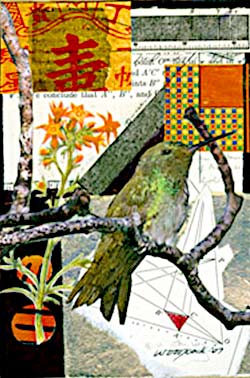 "Untitled"


We hope to see you in the gallery or in the studio sometime soon!
Karen Franscioni

&

Ross Peters
---
Summer Wind Gallery
&
Stained Glass Studio
45 Main Street
P.O. Box 1045
Isleton CA 95641
916-777-6906
Hours:
Thursday through Sunday
Noon to 5
(and always by appointment)


---
More about these Sacramento Artists

-- Summer Wind Home --

-- Stained Glass Portfolio --

-- Art Gallery Portfolio --

-- about Ross and Karen --

-- The "It's ALL About Glass" Show --