Please join us on Saturday, July 26th from 4 pm to 7 pm for the opening reception of our latest show at Summer Wind Gallery!
We are featuring the work of 6 local talented artists, all of whom are from Trilogy at Rio Vista. There is so much talent at Trilogy, that this is the second part of our last show! Trilogy is a retirement community for active 55 and over folks. Once again if the work in the gallery is any indication of what awaits us as we get towards retirement age, I say "Bring it on!"
We are extending our show dates, and this wonderful work will be showing through August 31st.

Detail from a small sideboard
by Judy Katona
Judy Katona will be showing with us once again with some of her recent compositions as well as some wonderful pieces of furniture. She is a local Bay Area artist with a keen eye for detail and a great appreciation for nature.

Judy, who has perfected a technique in which she manipulates Acrylics to behave like Watercolors, paints her life-like designs onto walls, furniture, cloth and canvas.

Her works have been exhibited and sold in galleries throughout the United States.



Show Information
Date:
Thursday July 24th through Sunday August 31st
Opening Reception:
Saturday July 26th 4 to 7 pm
Place:
Summer Wind Gallery 45 Main St. Isleton
Contact:
Karen Franscioni 916-777-6906
EVENT SUMMARY FOR CALENDAR:
Show featuring work by:
Linda Fead
Judy Katona
Allen Knight
Glenda Myers
Pat Puryear
Alma Renko
July 24th through August 31st Summer Wind Gallery, 45 Main St. in Isleton.
Open Thursday - Sunday
Noon to Five
(and by appointment)
For more information call
Karen Franscioni at
916-777-6906 or by email at: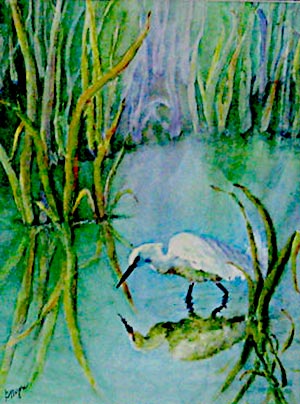 Reflections
by Glenda Myers

Glenda Myers was a high school teacher by vocation and has always had a passion for watercolor painting. With numerous shows and awards to her name, her work is well respected within the art community.

Ever changing natural light is the core of Myers' work. "Light intrigues me," Myers says, "because it enriches colors, highlights, and details. It emphasizes patterns and forms in nature, people, and objects. Using watercolors to capture the beauty of light challenges and entices me constantly."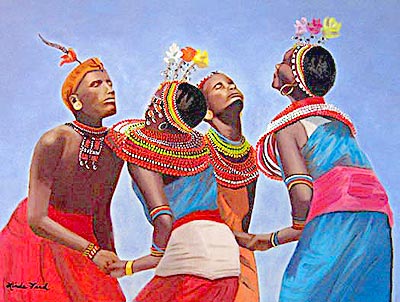 African Dance by Linda Fead
Artist Linda Fead has been interested in art starting as a young child drawing cartoon characters. As an adult Linda studied watercolor at Los Positas College in Livermore California and portrait and figure drawing at Solano College in Suisun California. She has won numerous awards and garnered recognition for her work.

Linda is currently sharing her talent and knowledge by teaching classes at Trilogy in Rio Vista in beginning drawing and charcoal. She designed the logo for the Rio Vista Bass Derby T-shirts and also created signage for the docks in Rio Vista.

Working in her studio, Linda does commissioned oil and charcoal portraits.
The Old Luggar
by Allen Knight
Allen Knight began his art and drawing in high school and continued with architectural drawing and perspective courses at UC Berkeley. He had limited and untutored painting experience for approximately 40 years.

Since moving to Trilogy around 6 years ago, Allen has taken his painting more seriously, studying under Harold Johnson and Gary Bergren. Currently focusing his work on watercolor and oils, Allen considers his work to be somewhat impressionistic with his compositions being of landscapes, seascapes and portraits.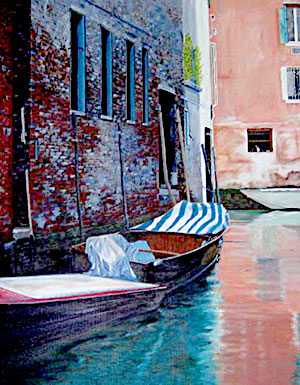 Reflections of Venice
by Alma Renko

Alma Renko has enjoyed notoriety for her artistic abilities since a very young age. During the 1970's she excelled in metal work and experimented with out-door paper Mache. During this time she was featured on a local television program and in several Contra Costa County newspapers.

Alma has studied under such well known artists as Charles H. White, Gary Bergren and local watercolor artist Harold E. Johnson. She prefers working with acrylics and has excelled in this medium.

Alma is a local award winning artist, receiving top awards in the 2003 Fall show at Trilogy and also the Juried Art Show in the Spring of 2005.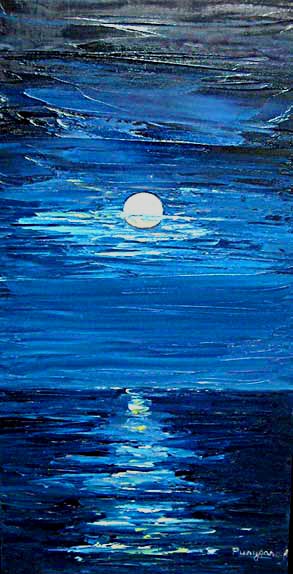 Winter Moonrise
by Pat Puryear
Pat Puryear, who participated in the last show with her watercolors, is showing again with us, but this time with her original oils. Pat is a California native, has always loved drawing and received an art scholarship in high school.

She paints in different media and enjoys going to workshops in both watercolor and oil.


Every time Ross and I walk into the gallery we are amazed at how beautiful the space is. Each show is a new opportunity for us to show off the work of very talented people, both local and out of the area. We chose to start a gallery for various reasons, we didn't think that just hanging out and enjoying the art would be such a large part of it. It is one of our favorite things. Once the show is up, we sit back and just enjoy. We talk about the work, what we like, what inspires us, and whether we should move that painting up just one more inch!! We invite you to stop in and see what's new in the gallery, and share your thoughts and inspirations with us.
We hope to see you soon!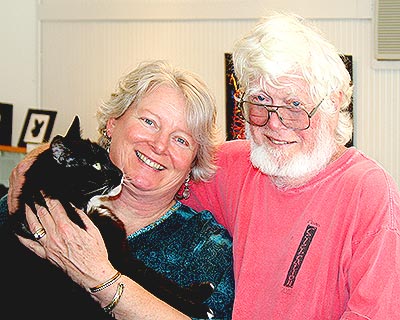 photo by Julie Griffin of the
Delta Explorer
O Saki, Karen and Ross at the Gallery.