Yes, this notice is a little late, but we're hoping that you will be able to join us on Saturday, June 21st from 4 pm to 7 pm for the opening reception of our latest show at Summer Wind Gallery!

We are featuring the work of 6 local talented artists, all of whom are from Trilogy at Rio Vista. This is a retirement community for active 55 and over folks. If the work in the gallery is any indication of what awaits us as we get towards retirement age, I say "Bring it on!"
Please remember that this wonderful work will be showing through July 13th.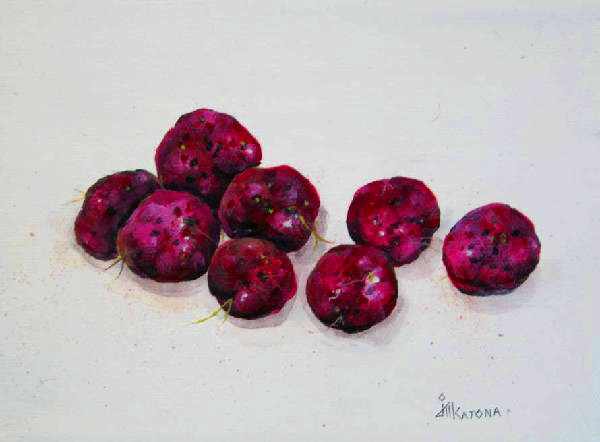 Baby Red Potaoes
by Judy Katona
Judy Katona is a local Bay Area artist with a keen eye for detail and a great appreciation for nature. Judy, who has perfected a technique in which she manipulates Acrylics to behave like Water Colors, paints her life like designs onto walls, furniture, cloth and canvas.
Her works have been exhibited and sold in galleries throughout the United States.
Show Information
Date:
Thursday June 19th through Sunday July 13th
Opening Reception:
Saturday June 21st 4 to 7 pm
Place:
Summer Wind Gallery 45 Main St. Isleton
Contact:
Karen Franscioni 916-777-6906
EVENT SUMMARY FOR CALENDAR:
Show featuring work by:
Lori Azzolino
Judy Katona
Jeanne Meaker
Pat Puryear
Amy Schmidt
Jim Zajicek
June 19th through July 13th
Summer Wind Gallery
45 Main St. in Isleton.
Open Thursday - Sunday
Noon to Five
For more information contact
Karen Franscioni at
916-777-6906 or by email at:

summerwind@citlink.net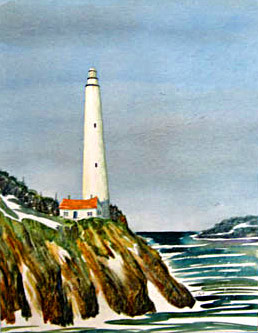 Light House by
Jim Zajicek

Jim Zajicek began painting approximately six years ago, with his first project being a mural that covered the three blank walls of his garage. Using a natural sponge and left-over paints he created a scene of Gibraltar and the Spanish countryside.

Jim's interest in watercolors began several years ago after visiting numerous Santa Fe art galleries. Wondering how the artists created such delicate paintings, he began formal watercolor instruction about four years ago.
As most artists who work with watercolors, Jim began painting on paper. In the summer of 2007 he tried watercolor canvas and found that it fit his style of painting better than paper. He believes that it has the qualities of both oils and watercolors, with the wonderful advantage of not having to go under glass.

Pat Puryear
Pat Puryear, whose wonderful 12 Palms is our opening image, is a California native. She has always loved drawing and received an art scholarship in high school. She paints in different mediums and enjoys going to workshops in both watercolor and oil.

Pat has several Palm Tree paintings in this show, ranging from 3 1/2 Palms to 12 Palms. I wonder if she was inspired by the entrance to Trilogy!!




It's been a fun, exciting and sometimes hectic, first year here at the gallery. We have had some incredible works of art grace our four walls and our pedestals. We started this amazing adventure to give me more time to create my own pieces. Well, that didn't work so well! Instead, my time and energy has been put into creating a space that is welcoming, interesting and beautiful, and thanks to the help of Linda Korth, I think we have succedded.

Each new show brings to light the talent and creativity of some of our area artists. For those of you who have supported us in this endeavor, Ross, O' Saki and I give you a whole hearted Thanks!!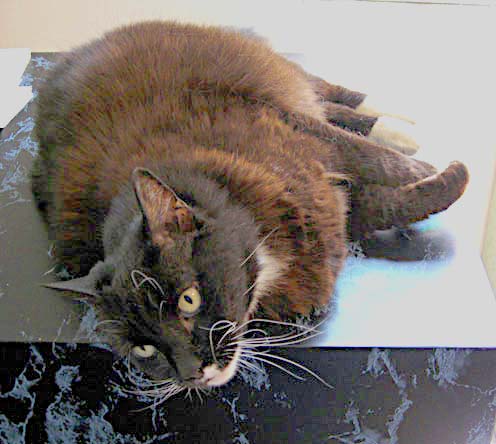 O Saki at at his best, just hanging out.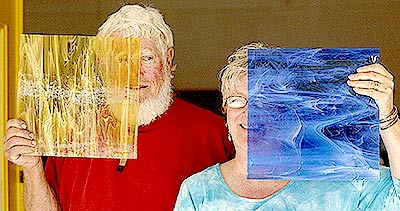 Ross and Karen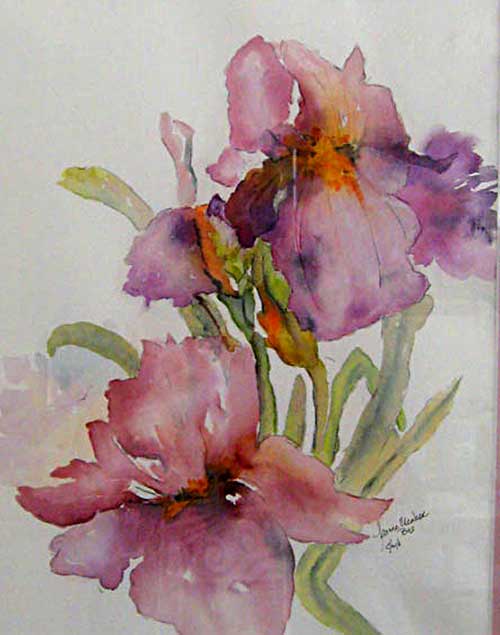 Spring Iris
by Jeanne Meaker
Jeanne came to the U.S. in the 1950's and worked in the hairdressing industry for many years. After retiring and on the advice of her sister, she went to watercolor classes, and discovered that she had talent. She studied under Pat Shroudt, for 7 years. Moving here from Concord in October of last year, Jeanne is still involved with the Valley Art Gallery in Walnut Creek. Jeanne has had several one woman shows in Walnut Creek and won a second place at the Trilogy Art show in January. Jeanne says of her work,"Flowers are my best thing, after that, landscapes. I love doing watercolor, it is a joy to be able to put the beauty that Mother Nature provides for us and put it on canvas."
Wintergreen by Lori Azzolino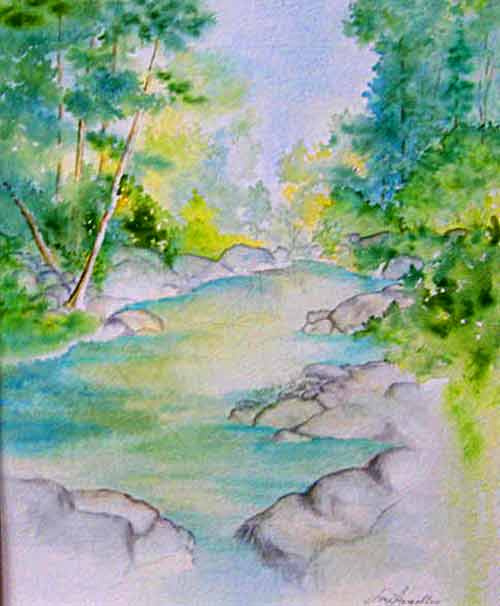 Lori Azzolino has been a Trilogy resident for about five years; this has given her the opportunity to have a wonderful studio in her home, and more time to devote to her painting. Lori began painting about 8 years ago and has studied Tom Lynch, Mira White and Terry Madden.

She has shown work in Brentwood at the Frank Lloyd Wright exhibit, in 2004, won the Peoples Choice award both in the spring and fall of the 2005 Trilogy Art Shows, and had two of her paintings selected and published in calendars for 2008.