SHOW INFORMATION :
Date: Now through December 16th.
Opening Reception : Saturday
December 15th& 3 to 6 pm
Place: Summer Wind Gallery
45 Main St. Isleton
Contact: Karen Franscioni
916-777-6906
---
EVENT SUMMARY FOR CALENDAR:
Show featuring the work of:
Suzanne Bruce - Janet Manalo
Nancy Tillisch - Glenda Myers
Donna Anderson
Diane Kennedy - Robert Lapp

Margaret Woodcock
Steve Wilson
Karen Franscioni
Kristi Halva - Ross Peters
Susan Lee Prince
Steve Harland - Russ Ooms
Heidi Franscioni
Miriam Davis
Kathleen Stevans
Cindy Muckensturm
Thomas Lee - Donna Levreault
Sam Joseph
Marty Stanley
Now through December 16th at

Summer Wind Gallery, 45 Main St. in Isleton
Open Thursday - Sunday
Noon to 5 pm.
OPENING RECEPTION:

Saturday, December 15th

3 pm to 6 pm & will coincide with:

"Come to our Senses - Isleton's Main Street Art and Wine Stroll"
For more information call
Karen Franscioni at
916-777-6906 or on line at summerwind@citlink.net
Susan Lee Prince, has a passion for photography that is apparent in every piece that she produces. A graduate of the New York Institute of Technology, Susan has developed an unusual attention to detail and a great eye for color.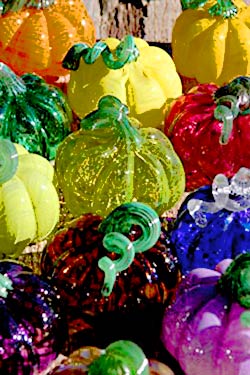 "Glass Pumkin Patch"
photo art by
Susan Lee Prince

We hope to see you in the gallery or in the studio sometime soon!

Karen Franscioni
&
Ross Peters
Summer Wind Gallery
&
Stained Glass Studio
45 Main Street P.O. Box 1045
Isleton CA 95641
916-777-6906
Hours: Thursday through Sunday
Noon to 5
(and always by appointment)
Although Ross and I plan to feature a broad range of artwork in our gallery, we will continue to pursue our first love which is stained glass.
While exploring the gallery, you may see Ross or I working on a stained glass commission or a repair in the studio.
Because we also sell a vast array of stained glass and stained glass supplies, you may also see other artisans shopping for inspiration and creative treasures.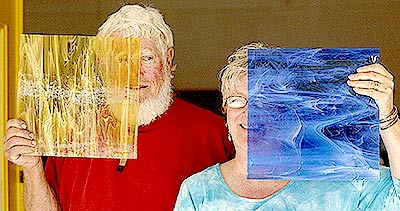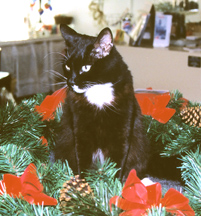 Season's Greetings from
all of us at
Summer Wind !

Mention this web-page and receive a 10% discount on your purchase and a special gift from the Summer Wind Studio!!



Seasons Greetings!
Please join us on Saturday, December 15th from 3 pm to 6 pm for a holiday reception for our giftable art!

We are featuring the work of numerous artists, some of whom you will are familiar with. This is our seasonal show which allows you to purchase that wonderful work of art, at a very reasonable price, as a gift for that special someone or even for yourself!
We have lots of new work, by new artists, in the gallery for this show, so many we can't list them all!

The reception will coincide with "Come to our Senses - Isleton's Main Street Art & Wine Stroll". So check out some of the other local business's and see what they have to offer.
Please note that our gallery hours are Thursday through Sunday Noon to 5pm.

(and we are always open by appointment)
"When you wish upon a star..."
Kristi Halva, blossoming mosaic artist from Lodi, who combines her glass choices and cut glass pieces as if she were using a paint brush from a Picasso painting has created wonderful stars that are just the right size for any room of the house.(or possibly the entry way to house!)


Steve Wilson, a metal worker from Herald has brought us words of wisdom, and playful words as well, that will last us all through the year! These are also perfect for over any door of the house, or any wall, inside or out!!
Diane Kennedy and Robert Lapp are exhibiting both functional and art pieces for the holiday show.
Diane, who is known mostly for her Raku work, has been working at the wheel for well over 20 years. She brings her experience and her creative expression to every piece
.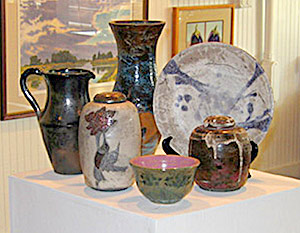 Robert Lapp who is relatively new to the potters wheel brings to the gallery a variety of shapes and styles, both functional and decorative. Robert who is in his first year at UC Davis is taking his high school art lessons to a whole new level.

Ekphrastic Expressions by Janet Manalo
and Suzanne Bruce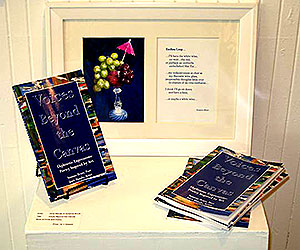 Suzanne Bruce, poet, and Janet Manalo, artist, have collaborated to create "Voices Beyond the Canvas", honoring the ancient form of ekphrasis. Their innovative approach to poetry inspired by art has been beautifully captured in this book.
Suzanne Bruce likes writing poetry that will elicit individual responses or reactions by providing a setting or feeling where the reader can then take their own interpretive journey.
Janet Manalo expresses her artistry through various mediums; acrylics, watercolor, collage, assemblage, textiles, photography and computer graphics. She manipulates canvas and other surfaces to create richly dimensional works of art.
The powerful variety of poetry matches the intriguing variety of artwork in this book as well as the combined works available in mat and frame. It is quite evident that the poet and artist have taken the verbal and visual forms of expression to a new level.
Suzanne's and Janet's individual voices come together to make a marvelous duet.
Ross and I wish you and yours
"Best of the Season!"
---